I was excited for my 3rd OCR this year, and this time with a different organization.  Like Spartan, Bonefrog offers a few different course length options.  Since I have done 2 Spartan sprints I figured it was worth trying the longer course: Challenge with 6+ miles and 30+ obstacles.
I am ready to go – 9am start time and it's already 88ºF (expected temp of 100ªF today!)
The first obstacle right after the start time was the "low crawl" – basically squat/ frog walking under the big rig/truck.
One of the next obstacles was the Tarzan swing – happy to say I got this no problem.
Then came the high wall – and I stood there for a moment contemplating how high it was
then I'm happy to say thatI got myself moving and climbed/pulled myself over!
Next up, was the mud pit which was gross but had the save grace of being cool
Onward and after a bunch of running, we had 3 obstacles with holes of varying height (crawl through/step through/and go head first-walk your hands out through)
Not photo worthy, were burpees / push ups/ dips / pull ups – all under the blazing hot sun.
Climbing up the net and rolling around was fun!
always fun to pass another super hero on the course
After more climbing, running, and failing at swinging on the rings/monkey bars, I am happy to say I successfully finished.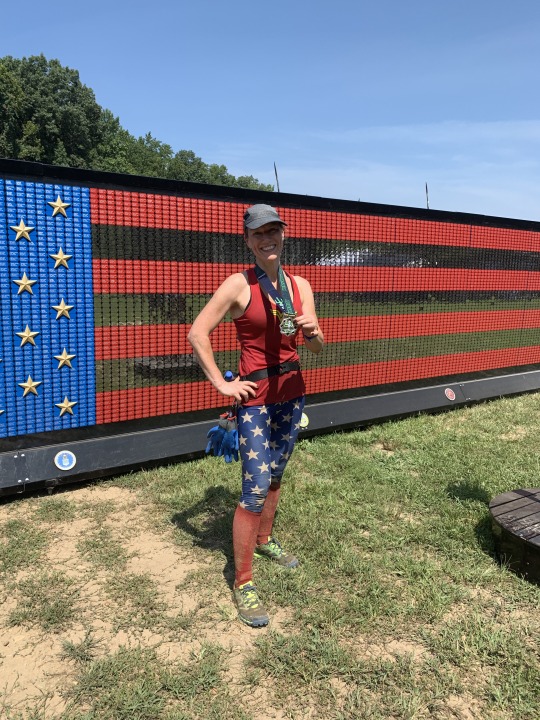 Thank goodness for the showers/water hose being relatively cool
Chill-axing before volunteering in the afternoon to help take the course down
At home in the evening, barely able to move – just enough to pour myself a nice glass of wine #Iearnedit
Overall:
Bonefrog did a great job with water stations throughout the course, and even one spot with frozen popsicles!! A few of the obstacles were beyond my capabilities but they were all fun. The heat was unrelenting and made some of the obstacles even harder (getting over hot tires, or gripping hot metal or black wood) but we were all in the same predicament and made the most of it.
Great crew/staff and everyone had an amazing attitude.